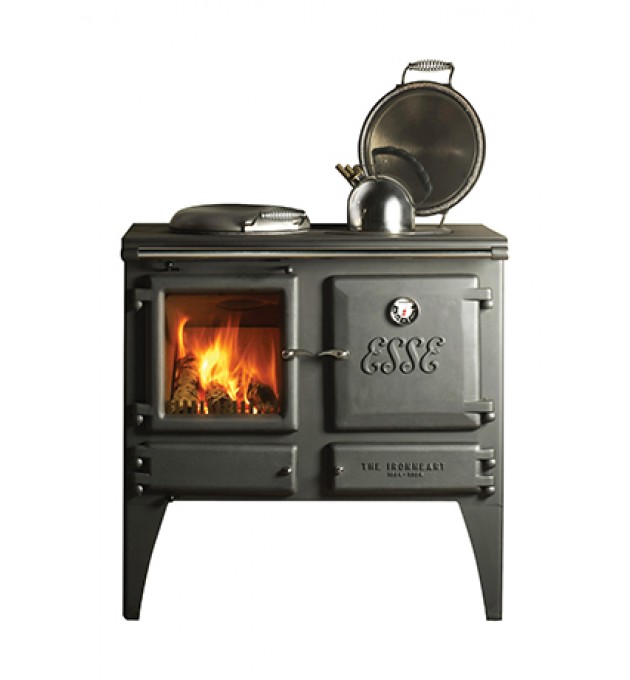 The Ironheart may look as if it's been around for ever, but in fact it's a recent arrival – created to celebrate 150 years of ESSE. It's a stove and a range cooker in one, combining the best of our two main product ranges. Cooking and heating have never come together more beautifully.
Unlike our standard range cookers, which are designed to contain heat, the Ironheart has convection panels that radiate warmth like a wood-burning stove.
The large firebox can burn either wood or smokeless coal. And whatever fuel you choose, you'll enjoy watching the flames leap and flicker through the large clear glass window.
The oven has an almost 50 litre capacity, and you can also cook directly in the firebox. With the "dog bone" hotplate comfortably able to take up to six pans, the Ironheart is equipped to bring out the very best in creative cooks – so no wonder it's become a firm favourite with head chef Gill Meller and his team at River Cottage HQ.
Multifuel wood or smokeless coal
47 Litre Oven
Hotplate up to 6 pans
Suitable for continuous operation
Heat output to room up to 9.7kw
Optional wood only conversion
Optional domestic hot water boiler
Optional hostess shelf
Stove Specifications
| | |
| --- | --- |
| EEI classification for ecolabelling 2018 | A |
| Output | 9.7kw |
| Energy Efficiency | 81.8% |
| Width | 320mm |
| Height | 340mm |
| Depth | 440mm |
| Hotplate | Up to 6 |
See the Esse Ironheart in action.
For our full range of ESSE products please call in to your local branch.
Not all branches will have an ESSE display, please check before you visit.
The new Bakeheart is an elegantly proportioned wood-fired cooking stove that provides room-filling radiant heat, a four-zone cooking hob and a generous baking oven.
While its rugged cast-iron design and simple styling may give the impression that the Bakeheart has been around for decades, this state-of-the-art piece of quality British engineering encapsulates everything we've learned in more than 160 years of manufacturing stoves and range cookers.
Using the same principles as our best-selling Ironheart, with a clear view of the dancing flames through the glass door to the firebox, the wood-fired Bakeheart provides ample heat to keep a cottage kitchen warm and toasty.
While our standard range cookers are designed to contain heat, the Bakeheart also incorporates convection panels that radiate warmth out into the room – just like a wood-burning stove.
ESSE's unique heat transfer stove technology efficiently channels heat from the firebox into the 32-litre oven and four-zone hob, bringing them up to cooking temperature within just a few minutes of lighting.
The graduated temperature hob offers additional heat control, with the heat reducing from 300˚C in the centre zone down to 190˚C at the outer ring.
Combine with a domestic boiler and the 5kW Bakeheart is a wellspring of hot water while the hob and oven will cook a limitless range of wholesome and hearty dishes from warming casseroles to heavenly home-baked bread.
Designed to accommodate dry, seasoned logs of up to 360mm (14in) length the Warmheart can be installed pretty much anywhere to provide a reliable, 'off-grid' source of heat for extended periods.
Whether it's providing heat and hot water in a bothy up in the mountains or wood-fired pizzas on the verandah at the beach house, the Bakeheart can be counted on to deliver heat and sustenance, day in, day out.
Cast iron hotplate temperature ranging from 190°C – 300°C
Off-grid heating and cooking – no mains services required
Compatible with domestic boiler
Generous 32-litre oven capacity
Simple air control
Powerful 5kW heat output
Suitable for use in smoke control areas
Efficiency rating of 82.3%
Energy Rated 'A+'
Stove Specifications
| | |
| --- | --- |
| EEI classification for ecolabelling 2018 | A+ |
| Output | 5.0kw |
| Energy Efficiency | 82.3% |
| Width | 350mm |
| Height | 200mm |
| Depth | 450mm |
| Weight | 195kg |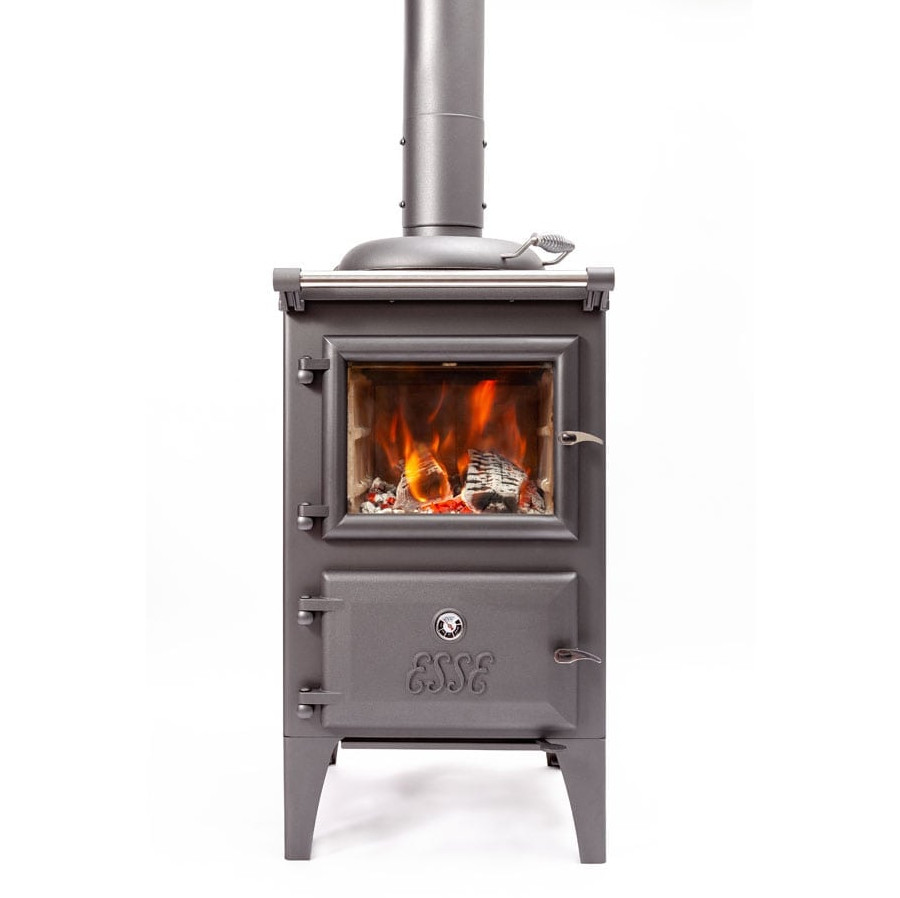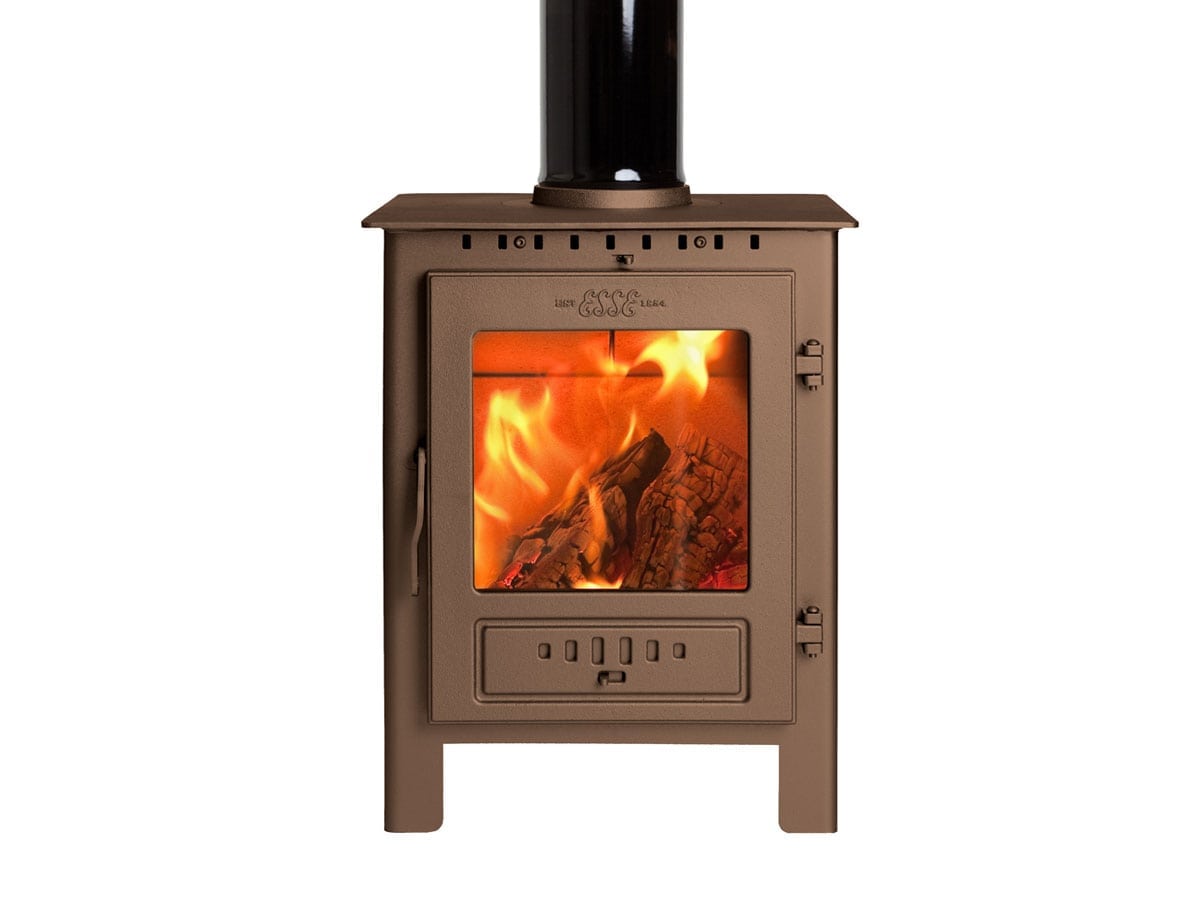 We think everyone should have a chance to own a beautiful ESSE wood-burning stove, and the ESSE 1 is designed to make that possible. It's affordably priced, but far from basic: a high quality hand-built ESSE stove with clean-burning performance to match its classic looks.
As you would expect from ESSE, we haven't cut corners in creating a more affordable stove. Elegant and easy to use, the ESSE 1 features a simple handle with no riddling grate, yet still offers you all the burn rate control of one our top-of-the-range stoves.
As for heating performance, we guarantee you won't be disappointed:
the ESSE 1 will make easy work of keeping your living space cosily warm in a clean and environmentally responsible manner.
And here's fuel for thought. If you're not sure about burning wood, or using it exclusively, the ESSE 1 can also be supplied as a multifuel model capable of burning either wood or mineral fuel.
Available as a wood only or multifuel model
Top or rear flue
Compatible with an ESSE log store
Stove Specifications
| | |
| --- | --- |
| EEI classification for ecolabelling 2018 | A+ |
| Output | 4.9kw |
| Energy Efficiency | 75.0% |
| Width | 410mm |
| Height | 511mm |
| Depth | 380mm |
| Weight | 51kg |
One of our very best sellers, this beautiful stove embodies everything that people love about ESSE wood-burners, on a relatively small scale. Built wide and slim, it's the perfect choice for style and warmth if your hearth depth is on the limited side.
It may not be one of our bigger models, but the clean-burning 100 has all the presence of a classic ESSE stove – with our signature VISA door arch styling, and a large window enabling you to enjoy a landscape view of your fire.
For an added reminder (as if you needed one) that this is a product built with pride by the UK's longest established stove manufacturers, a heritage ESSE logo is cast into the front centre, below your fire.
A typically thoughtful touch: the 100 has levelling feet, to ensure stability on uneven hearth surfaces.
The black bell-shaped handle makes reloading easy (when wearing a protective mitt), while the twin position riddling grate allows easy primary and secondary air control, to regulate your fire, and enabling you to burn both wood and mineral fuel.
Like almost all ESSE wood-burners, this energy-efficient model is compatible with our advanced automatic electric ignition technology; so no need for matches, lighter or kindling.
It can be installed with a top or rear flue, and is also available with a 300mm tall log store.
Weight 84kg
Clearances to combustibles: 600mm sides, 450mm top, 305mm front & 600mm rear
Stove Specifications
| | |
| --- | --- |
| EEI classification for ecolabelling 2018 | A |
| Output | 5.0kw |
| Energy Efficiency | 82.0% |
| Width | 610mm |
| Height | 630mm |
| Depth | 310mm |
| Weight | 84kg |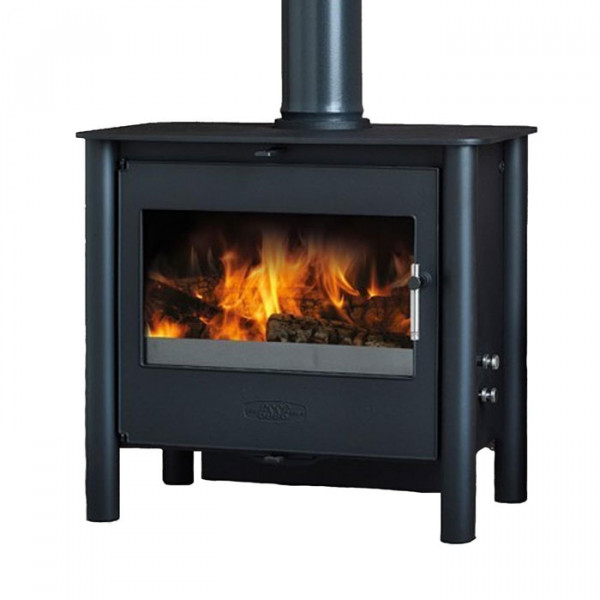 Gorgeous, isn't it? Think of this as a "remixed" version of our hugely popular 100 multifuel stove, offering all the same traditional benefits with a sophisticated contemporary twist…
Like every ESSE, the 125 is built by hand at our factory in Barnoldswick, Lancashire. Depending on the look you want for your living space, you can choose a sleek all black finish, or a two-tone look with the pillars in brushed stainless steel.
A cleverly designed twin position grate gives you another important option: whether to burn wood or mineral fuels. And simple top and bottom air slider controls make this clean-burning stove as easy to operate as it is on the eye.
Speaking of the easy life, why mess around with matches, lighters and kindling, when the 125 is fully compatible with ESSE's innovative automatic electric ignition technology?
Weight 100kg
Clearances to combustibles: 600mm sides, 450mm top, 305mm front & 600mm rear
Stove Specifications
| | |
| --- | --- |
| EEI classification for ecolabelling 2018 | A |
| Output | 5.0kw |
| Energy Efficiency | 82.0% |
| Width | 648mm |
| Height | 530mm |
| Depth | 363mm |
| Weight | 100kg |