The Kalfire E-one gives fireplaces a whole new meaning – experience fire like you've never experienced it before! The E-one is a sustainable electric decorative fireplace with beautiful flames that you won't be able to take your eyes off. The E-one is a high-tech electric fireplace without a flue, so you can place it anywhere you like. You can also change the fire settings – from the flame height, ember bed, flame colour to sound –create the fire that you want. Endless possibilities, zero emissions.
| | |
| --- | --- |
| Output | 2kw |
| Width | 1059mm |
| Height | 750mm |
| Depth | 512mm |
For our full range of Kalfire products please call in to your local branch.
Not all branches will have a Firebelly on display, please check before you visit.
Closed gas fire
The Kalfire GP105/79F is part of the latest spark effect collection of gas fires from Hollands leading gas fire supplier, the GP105/79F will be one of the most beautiful available and will be a real focal point. This gas fire is also accessible using the iMatch remote and Domotica (home automation) which allows the whole family to control and use it safely and easily.
With an adequate heat output the GP105/79F would be the perfect designer fireplace for any living space. The anti reflective glass back gives a real mirror effect giving and the illusion of a deeper flame picture, especially the prestige burner which has the optional spark generator available making this gas fire one of the most realistic available.
| | |
| --- | --- |
| Output | 12kw |
| Efficiency | 80.7% |
| Width | 1263mm |
| Height | 1313mm |
| Depth | 550mm |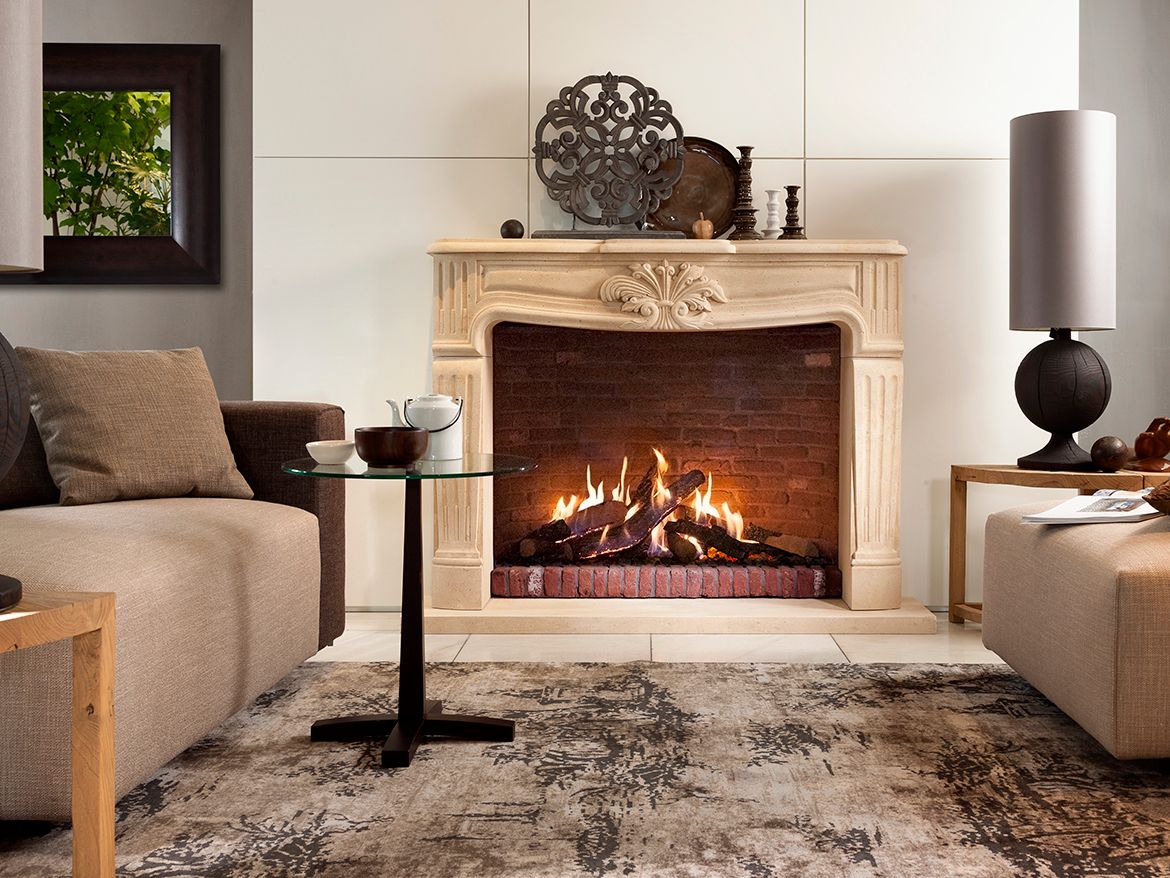 Closed Gas Fire
The Kalfire GP60/79F is a 60cm wide balanced flue gas appliance, with 79cm high glass, available in Natural Gas or LPG, with unique Prestige ECO-Burner and radiographic remote handset.
The Prestige burner incorporates gas burners into the ceramic logs on the fuel bed, along with an LED hybrid function giving the illusion of glowing embers.
This fire is available with the range of interior lining options, along with anti-reflective glass and new our 'Natural Spark Generator' seen below.
| | |
| --- | --- |
| Energy Efficiency | 80.0% |
| Width | 813mm |
| Height | 1339mm |
| Depth | 502mm |